Motorola has had a rough couple of years from it being bought out and sold many times and eventually ending up with Lenovo. Though that hasn't stopped the company from producing more and more innovative smartphones which is the case with its newest member, the Moto Z2 Force which is a shatterproof smartphone with dual cameras and comes with mods.
MOTO Z2 FORCE FULL SPECIFICATIONS
Display: 5.5" Quad HD 1440p Super AMOLED display guaranteed not to crack or shatter, wrapped in a sleek 7000 series aluminium unibody.
Battery: Up to 24 hours of power on one charge. Plus, hours of power in just minutes of charging.
Rear Camera: dual 12 MP camera setup with a 5MP wide angle front facing camera
OS: Android 7.1.1 Nougat
RAM: 4 GB
Storage: up to 64 GB
Water Resistant: YES
Colours: Super Black


Fine Gold




Lunar Grey (T-Mobile exclusive)
SO WHAT IS THE MOTO Z2 FORCE PHONE?
The Moto Z2 Force is the latest smartphone offering from Motorola that offers a Shatterproof display which is the first of its kind and comes with dual rear cameras and huge mod support.
MOTO Z2 FORCE: DISPLAY
Now, the display is usually what people look for straight away when they consider a smartphone. And with many different types of screens out there, it can be hard to choose. The Moto Z2 force has a display that is unlike any other smartphone. Though it has your typical 5.5-inch quad HD 1440p display, unlike other smartphones, this phone's display is shatterproof and from what test we've done from various heights we can ascertain this statement. This is accomplished via its new technology called "Moto ShatterShield" which guarantees that your screen will not crack or shatter. Overall, judging the display, you can't go wrong with this one. Its quad HD AMOLED display draws vibrant colours and deeper blacks with the protection of the shatterproof technology. The one gripe I do have about the display is that it doesn't cover most of the device. The bezels are quite huge in today's market, but I feel that this was more of a design choice as having thinner bezels would make the phone more susceptible to damage.
MOTO Z2 FORCE: DESIGN
The design of the Moto Z2 Force is a mixed bag. In terms of frontal design, those big bezels really do stand out and make it look old in comparison to the Samsung  Galaxy S8 or even the upcoming iPhone 8. Though I understand that they had to make a design choice in order to make the phone shatterproof because if they had implemented a bezel-less front display, then the phone would be susceptible to huge damages if dropped from a moderate height. Another gripe about the design is the big camera bump on the back. This is not much an issue for me but to many others, this could be a factor when buying the phone. Though despite these two gripes, the design still looks amazing especially the back with that brushed aluminium texture. This is probably the best looking shatterproof phone on the market right now.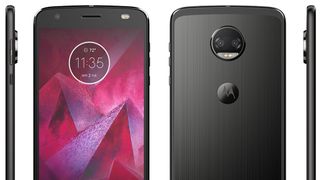 MOTO Z2 FORCE: OS
The Moto Z2 Force is rocking the latest Android OS software, Nougat 7.1.1 and will receive future updates as like other phones. The phone does come with its own custom skin over the android nougat OS as expected like many other Android OEMs, but overall the skin doesn't slow down the phone at all and actually complements the design.
MOTO Z2 FORCE: PERFORMANCE
So, as mentioned above the Moto Z2 Force rocks Qualcomm's Snapdragon 835 chip which performs incredibly well when it is coupled with 4GB of RAM. With the Qualcomm Snapdragon 835 chip there is literally no delay in opening or running any apps and it really accelerates downloading large files and streaming music, shows and videos with ease. In terms of GPU, the Moto Z2 Force has an Adreno 540 GPU that zips through games with ease even the intensive 3D ones. 
MOTO Z2 FORCE: BATTERY
In terms of battery, the Moto Z2 Force has a sub par 2730 mAh battery, though we couldn't fully test as of yet, we will update as those tests come in. But you can expect since it has a 2730  mAh battery that you'd easily get close to a days' use on a single charge with moderate use. Further, according to the Moto Z2 Force website, the Moto Z2 Force supports fast charge (TurboPower) for high speed charging in minutes. 
MOTO Z2 FORCE: CAMERA
Coming to the camera, this is where I thought there would be a trade-off. But to my surprise, the cameras on this phone are incredible. The  Moto Z2 Force comes with dual rear 12MP cameras with a f/2.0 aperture, zero shutter lag, Phase detection auto focus and LED flash. In terms of video, it can take 4K (30fps), 1080p (30fps, 60fps, slow motion 120fps), 720p (30fps, slow motion 240fps ), 480p (30fps) video. The front camera is also great with it having a wide angle lens which is SUPER helpful for getting more people in that selfie and has flash as well for those nighttime shots which you don't see in many phones still. 
SO, SHOULD YOU BUY THE  MOTO Z2 FORCE?
If you are one that drops your phone a lot and wouldn't mind the big bezels then this is for you. This phone has all the latest specs that rival event the Galaxy S8 and also comes with Mod support for a projector, battery or cameras. Though keep in mind that this costs $720 USD and you can probably find another phone such as the OnePlus 5 for much less with the same specs.
Check out our OnePlus 5 Review!
If you would like to send an item our way for review, please email us at quadoop@gmail.com