The much awaited Samsung Galaxy S8 is almost upon us. Many are hoping to pick up an S8 or S8 plus when Samsung finally announces it in March, but in the meantime, we are treated with a flurry of nice image and spec leaks courtesy of twitter user Evan Blass. His latest leaks showcase the supposed 'official' leaks for the Samsung Galaxy S8 Plus, not the base S8 surprisingly.  Evan's leaks are usually right so we can take these specs to what will be revealed by Samsung. Take a look below.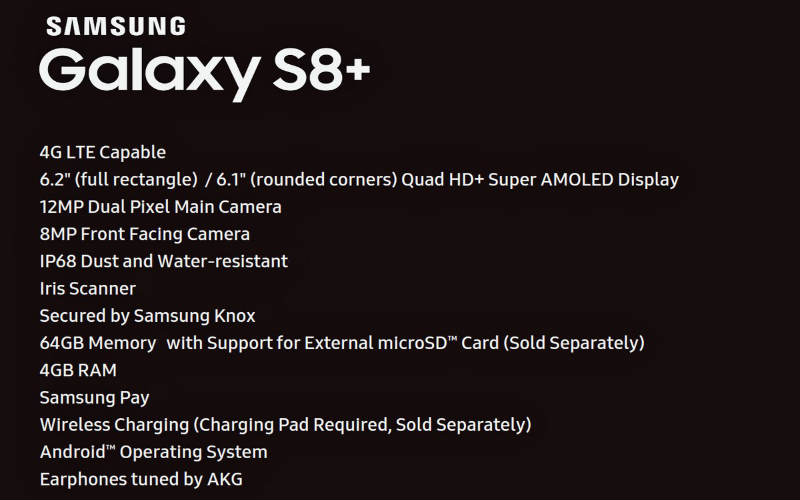 DISPLAY
Now you may think, 'dang that screen is huge!". But you have to realize that the screen size has increased due to it taking over the entire front face of the body. There is almost no bezels present which allows for this huge screen real estate. And of course, Samsung will be rocking with it's in house QUAD HD+ Super AMOLED Display for both the S8 and S8 plus. The "plus +" in 'HD+' simply means that it'll have a higher pixel density, not that it will be a 4K screen. Samsung Super AMOLED screen is an 'active-matrix organic light-emitting diode'. It adds a layer of semiconducting film behind the OLED panel which allows it to more quickly activate each pixel. That increased speed makes it ideal for larger, higher definition displays with a lot of pixels.
PROCESSOR
Although not mentioned in the leak, many are speculating that it will use Snapdragon's new 835 chip for North America and Samsung's own Exynos for International markets.
Snapdragon 835: With an advanced 10-nanometer design, the Qualcomm® Snapdragon™ 835 processor can support phenomenal mobile performance. It is 35% smaller and uses 25% less power than previous designs, and is engineered to deliver exceptionally long battery life, lifelike VR and AR experiences, cutting-edge camera capabilities and Gigabit-Class download speeds. As the control center of a Snapdragon processor, the Qualcomm® Kryo™ 280 CPU has Qualcomm's most power-efficient architecture to date—with independent efficiency and power clusters, each designed to optimize for a unique user experience. As for the GPU, it delivers up to 25% faster graphics rendering and 60x more display colors compared to previous designs, the Qualcomm® Adreno™ 540 GPU supports real-life-quality visuals for exciting immersive experiences.
Samsung Exynos: "the Exynos 8895 supports 4K video recording and playback at 120fps, while the Snapdragon 835 is limited to 4K video recording at 30fps and 4K video playback at 30fps. However, preliminary findings suggest that the Adreno 540 GPU inside the Snapdragon 835 could end up being more powerful than the Mali-G71 MP20 GPU that's used in the Exynos 8895. The Adreno 540 also supports DirectX12 API, while the Mali-G71 is limited to DirectX 11. Both support Vulkan 1.0, though, which is more important going forward. – "the Verge.
MEMORY
Interesting here is to see that the Samsung Galaxy S8 will have only 4GB of RAM compared to some other rumors suggesting that it'll have 6GB or even 8GB. We will have to see until Samsung reveals the S8 to find out the truth.
MISCELLANEOUS
Iris Scanner: The Samsung Galaxy S8 will feature its patented iris recognition technology which helps keep your phone safe and secure. This uses the iris recognition camera and LED to scan and recognize the unique pattern of your iris.
Android OS:  The Samsung Galaxy S8 is supposedly rocking Google's latest Android OS Nougat.
Earphones tuned by AKG:   For those audiophiles who know their sound, you're no stranger to AKG. AKG manufacturers some of the best earphones in the market, and for them to be in partnership with Samsung on the S8 is a huge bonus to those who plan on picking an S8/S8+ up.